Integrabiz can Connect you to your Ideal Coach!
So many coaches. Choosing can be confusing, time consuming and frustrating.
Searching the internet or the yellow pages you will find many different coaches. How do you know if they are the right one to meet your unique and individual needs?
Are they appropriately qualified?
Are their fees proportionate to their skill set, the market or the service they offer?
What if you start coaching and you don't like it, or you just don't 'click' with the coach you choose?
Integrabiz is the first and only coaching company in Australia to provide a free personalised and professional, hassle free matching service connecting individuals to their ideal coach.
Our personal and professional service offers to you a coach matching service that provides:
Screened qualified coaches
Coaches specialising in niche markets
Personal, business, and corporate coaches
A variety of coaching fees and plans to suit a variety of budgets
Is Hassle free saving you wasted time and money on wrong decisions
Guaranteed, Risk Free, and at No cost to you

Top 10 Reasons Our Clients use Integrabiz over Other Coaching Providers (32kb PDF Download)
Our hassle free, risk free matching service - as easy as 1- 2- 3.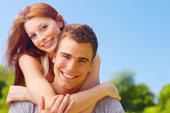 Contact Us

Call or us and our relationship manager will develop a client / coach brief, working with you to ascertain exactly what your are looking for, and what you require in a coach.

Receive your coach recommendation from us

We contact you with our recommendations telling you a little about the coaches, and why we chose them for you. More…

Receive Your Complimentary Coaching Session

The complimentary coaching session with your coach is your opportunity to taste­ the experience of coaching, begin a relationship with your coach, and decide then how you want to proceed forward.

What is the Complimentary Session & How Does it Work?(176kb PDF Download)
Case Study

Living You
"I enjoyed it and learnt more about...
Read more
Other Case Studies
News/Events

Life coaches telling us how to live
Gillian Mountwinter - IT professional, artist and volunteer...
Read more
Other News/Events
Coach of the Month

Andrew Ford
Andrew is passionate about enabling people to make changes...
Read more
Other Team Members